Drum handling solutions
18 June 2013
For the loading or unloading of drums from lorries and containers, for de-palletising, or just moving drums around a workshop or factory site, the St Clare Engineering range of Grab-O-Matic fork attachments and pedestrian drum handlers can provide a safe and efficient solution.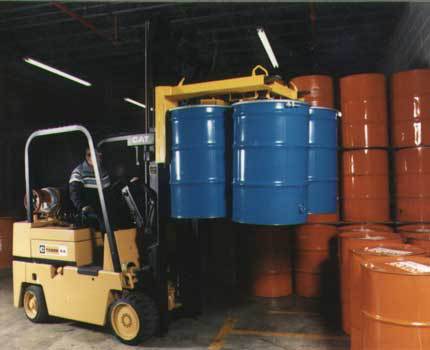 The Grab-O-Matic rim grip drum handlers are suitable for all types of steel drums, plastic 'L' ring drums and most fibre drums. The latest additions to the range, the L4F and S4F fork attachments, can grab four drums at a time.
The L4F can handle one, two, three or four drums at one time and is suitable for conveyor work, pallet change-out, truck and container loading, general warehousing and all stacking and high-volume drum handling applications. It secures to forklifts with a safety chain and gravity clamp device.

The S4F 4 drum handler with its short frame will only handle four drums at one time, but provides lower upper clearance for loading trailer or containers with height restrictions.
As with all Grab-O-Matic fork attachments no hydraulic or electrical connections are required; the operation is purely mechanical.
OTHER ARTICLES IN THIS SECTION